HUB ALE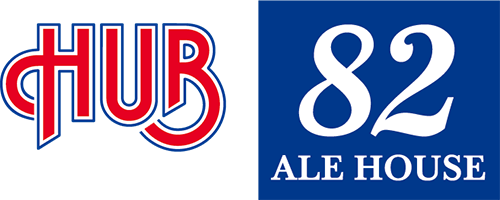 HUB ALE is an authentic, flavorful British ale with an exquisite balance of bitterness and sweetness.
As a seasonal premium ale available only at HUB, it has been produced in spring/summer and fall/winter versions since 2005.
The ale is shipped from the brewery through cold chain distribution on the day it's kegged, providing peak freshness.
HUB's original ale brand uses carefully selected malt and hops. The sumptuous seasonal recipe means that HUB ALE isn't available anywhere else.
HUB ALE's Secret Origin Story
HUB ALE first appeared in 2005. How did it come about?
HUB ALE is the product of a love of beer and great obsession.
When there were only a few HUB locations, draft beer along with bottled Corona and Budweiser were very popular. Only the Roppongi location sold Bass Pale Ale, but it had a number of devoted followers. The manager of the Roppongi HUB, Mr. Kobayashi, (now director of the HUB product planning division), wanted to use the Roppongi HUB as a springboard to sell Guinness too. He said, "We're a British pub—can we please offer Guinness?" After pestering the product planning department many times, he finally got his chance to offer the classic Irish beer.
The Roppongi HUB continued to innovate by introducing fish and chips after Guinness, and now that it had the classic British menu locked down, it became the unofficial HUB British menu research laboratory.
As a result, in addition to fish and chips, we revised our exclusive sales contract with our manufacturer and introduced Bass Pale Ale (cans) and Guinness (bottles) in all locations in November 1994. Fourteen years after its establishment, HUB finally had proper British beer and food on the menu.
Moving forward, Mr. Ota (current President and Representative Director) and Mr. Kobayashi went to the UK and Ireland, experiencing the deliciousness of fresh Guinness kegs alongside the high level of support and pride the Irish have for Guinness. Despite a few problems securing lots, they then introduced Guinness at the Tokyo Opera City HUB for the first time in April 1999. Although there were some difficulties, including mastering how to properly pour the beer, the two gentlemen were able to successfully initiate full-scale Guinness keg sales through Guinness seminars and taking the time to pour twice.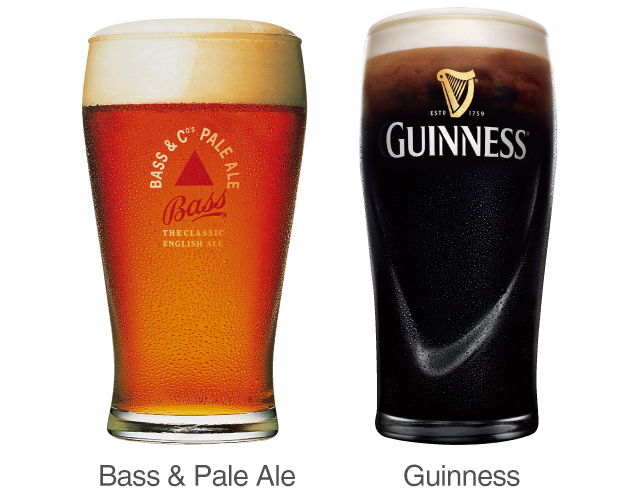 The difference in HUB ALE—born from a deep love of beer
Following the successful introduction of draft Guinness, a HUB employee returning from training in Britain suggested selling a house-branded HUB ale. At the time, producing a house ale required a minimum of 100 kegs of 30 liters. Our scale of only 27 HUB locations meant it simply wasn't feasible. Shortly after, however, we received the good news that Kirin Brewery could produce individual beers in smaller lots.
The beer Estella was used as the base for HUB ALE. We quickly gathered about 10 pub managers who knew their beer (they're now active at the HUB head office today, or run their own pubs) in a test kitchen at the head office to taste the recipe. Everyone agreed that it was delicious and that the house ale movement should be supported.
The fathers of this original ale were Masayuki Sasaki, who originally brought the idea to the table and devoted his life to making the finest beer, partially by making Gargery independent from Kirin beer, along with Mr. Hirofumi Gyoda (president of Echigo Brewery, a long-established craft beer company), who contributed to uncompromising research on the development of new HUB products.
In Japan, beer is usually served extremely cold and is often downed in one gulp. When it is cold, it is highly effervescent, refreshing and delicious. This is one reason for the Japanese phrase, "Toriaezu, beer! (I'll start with a beer!)." Yet at HUB, we wanted to make an ale—beer that would be the polar opposite of beer that is enjoyed quickly and ice-cold.
That is how HUB ALE was born. Our customers love it, and the number of loyal HUB ALE fans has increased, allowing us to continue to do great things.
"We are making a beer that a major brewery cannot," says current President Sasaki and then-president President Gyoda. Every pint glass of HUB ALE is filled with the passion and love of everyone at HUB.
WHERE DOES HUB ALE COME FROM?
HUB ALE is produced at Echigo Beer Co., Ltd., Japan's first craft brewery, in Niigata. Here brewers check the quality, taste and condition of the beer using different benchmarks. Quality control is essential to provide safe and delicious beer.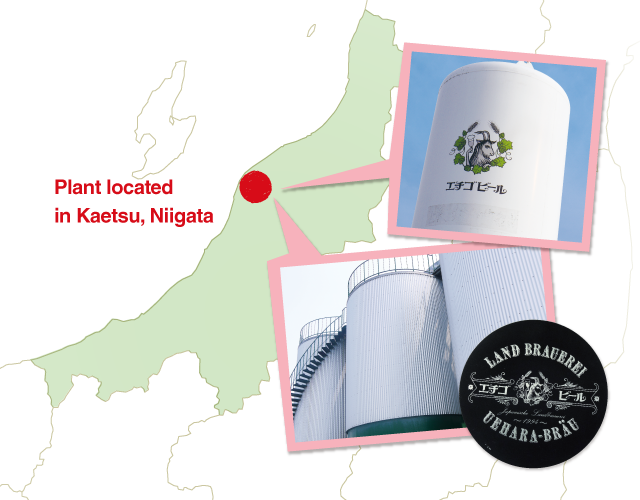 We made it!

HUB ALE production process
Raw materials

Start with plenty of carefully-selected HUB malts.

Malt mill

A moderately coarse grind ensures that flavor remains.

Saccharification

Soft water from a tributary of the Shinano River is added to the malt.

Filtration

After saccharification, the unrefined brew is filtered into clear wort.

Boiling

Add hops to the wort and boil. This provides the beer's bitterness.

Whirlpool

The liquid is rotated to separate thermo-coagulated substances. The spent grain is used as fertilizer.

Cooling

The liquid is chilled to the optimum temperature for fermentation.

Ferment

Yeast is added and fermentation begins. This creates "young beer."

Maturing

The beer is slowly aged at low temperature.

Completion

The beer is kegged by hand with love!

Peak freshness—HUB ALE is shipped on the same day it's kegged!
SERVICE
ABOUT US

What is the HUB?
It changed to a place where people gather.

TRIVIA OF BRITAIN

The pub is the fruit of British culture and history. Surprisingly, it's not known what it's like.

VOICE

Voice of the Customer
What brings you here?

HISTORY

Hub Co., Ltd. was established in 1980.
We have many guests here.

MEMBER'S CARD

This is a member's card where you can get 5% off on food and drinks at all stores.

FREE Wi-Fi

FREE Wi-Fi is AVAILABLE at the HUB&82!!
HUB&82 FREE Wi-Fi SPOTS!!