MEMBER'S CARD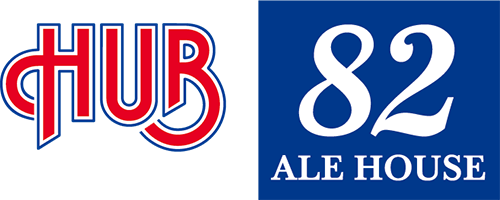 Membership card information
MEMBER REWARD
5%OFF

every purchase!
Collect points for discount tickets!
If you have a party with a reservation, you will get points PLUS discount tickets of 5% of party fee.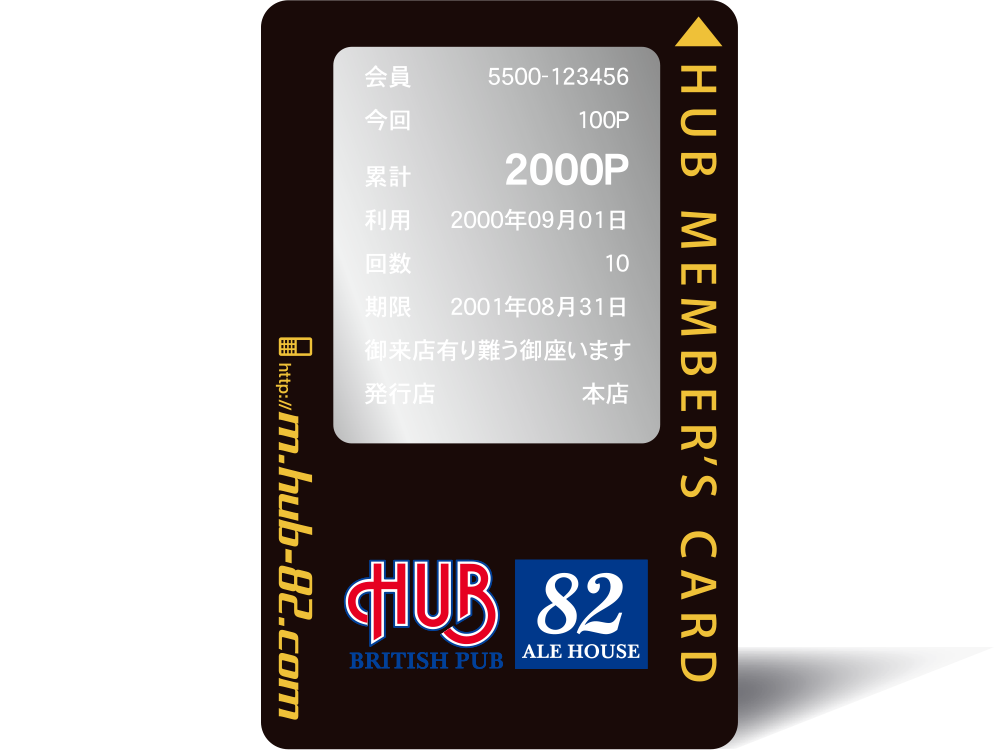 POINT SYSTEM

10points for every 100yen spent

MEMBERSHIP FEE

500yen for Membership Fee

COMMONALITY

For all the HUB and 82 locations

EXPIRATION DATE

1 year after your last purchase

GOLD CARD

Move up to gold card:7%OFF(depends on your purchase)
POINT PREMIUM
Exchange food tickets according to the number of points!
1,000point

¥500 food and drink ticket
3,000point

¥2,000 food and drink ticket
10,000point

¥7,000 food and drink ticket
20,000point

¥15,000 food and drink ticket
Member's Card Rules
Please show this card with every purchase at the bar.

Only members can use the card.

We will add 10 points for every 100 yen you spend.

The expiration date is one year from the last visit. If you don't use it at all for a year, your card will be invalid and your points will be expired, so please be careful.

To cancel the mail delivery or change your password, please go to the mobile site.

If you lose your card, we cannot reissue it. Please note that your points will also expire.

Points cannot be transferred to others.

If the card gets wet, bent or magnetic, it may become unusable and points may become invalid. Handle with care.

Please note that the member privilege may change.
*If you do not know your PIN code, please enter your membership number (No hyphen) below.
Scope of Use of Personal Information
We will comply with laws, regulations and other standards concerning the protection of personal information.

We will not use the personal information you registered at the time of admission except for the promotion of HUB 82.

If you register your customer information, we will send you valuable information such as campaign information and birthday points by e-mail from HUB/82.

To cancel the mail delivery or change your password, please go to the mobile site.
*The birthday bonus will be sent to you by email a week before your birthday.
*Please note that the mail will not arrive until the card registration is completed at the time of mail delivery.
SERVICE
ABOUT US

What is the HUB?
It changed to a place where people gather.

TRIVIA OF BRITAIN

The pub is the fruit of British culture and history. Surprisingly, it's not known what it's like.

VOICE

Voice of the Customer
What brings you here?

HISTORY

Hub Co., Ltd. was established in 1980.
We have many guests here.

MEMBER'S CARD

This is a member's card where you can get 5% off on food and drinks at all stores.

FREE Wi-Fi

FREE Wi-Fi is AVAILABLE at the HUB&82!!
HUB&82 FREE Wi-Fi SPOTS!!